Skellefteå Kraft -Sweden Ladies International
Picture Gallery
---
IGM Evgenij Agrest,SWE, gives a simulus for 25 local players.
From the left: Sune Larsson, Gunnar Nyberg, Harry Hedlund, Per-Hugo Dahlberg, Anders Stenlund and Mikael Nilsson.
Behind the players: Sven-Gunnar Samuelsson and Jan Palm (Hotel Manager).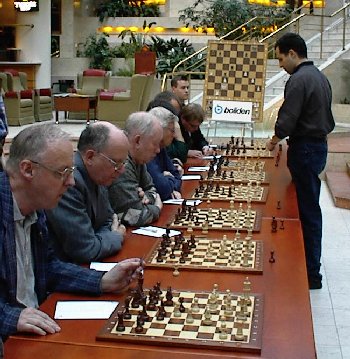 From the observer: Göte Alm, Torbjörn Olsson, Allan Andersson, Arthur Larsson, Lennart Lundgren, Per Harila, Anders Johansson and Erik Näckholm.
Results:
+20 =2 -3
The winners were Nicklas Marklund, Hassan Kashwan and Sune Larsson. All from Skellefteå Schackklubb (SSK).
Two players managed a draw: Harry Hedlund (SSK) and Rune Löfqvist from Lövångers Schackklubb.

Back